Campus Spotlight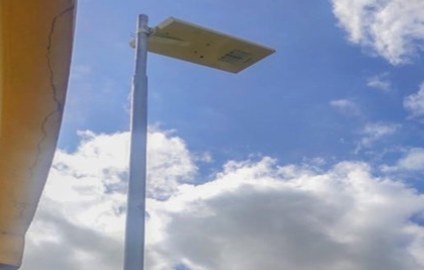 Solar Lighting
Institute of Health Sciences (IHS) is one of India's premier medical institutions providing professional rehabilitation courses like BASLP, BPT, etc. It is by far India's only institution that houses all types of therapeutics and rehab support inhouse catering to patients where students can practice and perfect their skills.
Green Campus
Greenery was created with shady trees to cool the air. Wide blade grass was used to cover the exposed land area. Many medicinal shrubs, creepers and trees dot the campus. The organic waste is recycled. Rainwater harvesting facilities are fitted at different places to recharge the ground water. Single use plastic is discouraged in the canteen. Solar lighting is installed at different places.
Vernacular Architecture
Infrastructure of the campus is planned keeping the need of disability rehabilitation in mind. While buildings were having accessible corridors, courtyard provided natural lighting and ventilation. Landscape was paved with pathways to facilitate locomotor training. Locally available building materials apart, natural materials were used to minimise carbon footprint. Unplastered stone walls required no painting. The overall impact was to create an ambience that looks like a health resorts, rather than a hospital.
Therapy Park
Herbal garden is aesthetically blended with structures gadgets for outdoor games. Supervised play is used for its therapeutic effects on people with various kinds of disability.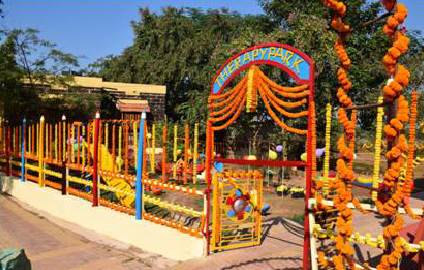 Barrier Free Access to People With Disability
Institute of Health Sciences building structure and the landscape is created to facilitate inclusiveness. Whether the dedicated toilets, capacity building pathways or therapeutic service providing clinics apart from academic buildings have been constructed with sensitivity and empathy.
Rain water harvesting
The entire campus is structured to let the rain water percolate to recharge the ground water. Rooftop rainwater harvesting is done and directed suitably to the ground. Water body is created to let the excess water drain into it.
Solid Waste Management
The biodigester is installed in the campus for processing the biodegradable and perishable material. The gas is used in the kitchen for cooking and the slurry is used in the garden for the plants.