NSS
The National Service Scheme (NSS) provides opportunity to the youngstudents of schools, college and University level of India to take part in various community service activities &programmes. The sole aim of the NSS is to provide hands on experience to young students in delivering community service. NSS volunteers of I H S are actively involved in various awareness programmesto cater to the needs of the societylike:Blood donation camp ,Swachha Bharat ,Eye check up camp,Van Mahotsav,Autism Awareness rally ,Anti Tobacco Day, World Aids Day etc.
Celebration of Van Mahotsav
Van Mahotsav is the annual tree planting ceremony celebrated in the month of July every year. I H S also celebrated this festival at its Chandaka campus by planting some fruit saplings at its campus. All the staff and students of I H S were involved in this celebration.
Blood donation camp
Institute of Health Sciences organized voluntary blood donation camp on 02.07.2022 at its Chandaka campus. All the staff and students of IHS were participated in this camp.
International Yoga day
Yoga is an ancient practice that may have originated in India. It involves movement, meditation, and breathing techniques to promote mental and physical well-being. Recognising its universal appeal, every year on 21st June IHS celebrates International Day of yoga at chandaka campus to bring awareness about health benefits of yoga.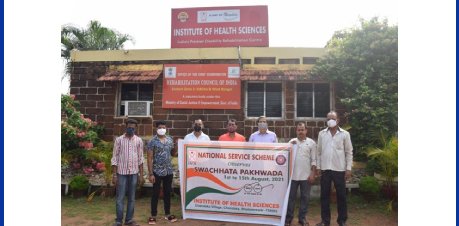 Swachha Bharat - NSS Activity (SwachhataPakhwada)
As a part of the central Govt.initiative "AzadikaAmritMahotsav" IHS celebrated this day in a unique manner. Our NSS Unit observed SwachhataPakhwada from 1st August to 15th August 2021. As part of the Swachha Bharat Mission our NSS unit participated in the cleanliness drive of the work place and the Institute campus. In this programme NSS Unit encourage and motivate the concept of cleanliness among the students, teachers and the administrative supporting staff.
World Autism awareness Day
On 2nd April 2022 NSS students of I H S organized an awareness rally on the occasion of World Autism awareness Day. The main motive of this rally is to create awareness among the parents who should guide their children with Autism in a proper way.