Outreach Programs at IHS
Outreach programmes & community service build relationship & social connection with the people and expose students to diversity and multi culturalism. It improves communication, interpersonal & critical thinking skills and helps them to find their passions & interests.
Our institution inculcates social value and responsibilities to the faculty members and students by imparting extension activities in the neighborhood for holistic development of the society. Through extension and outreach programs, we sensitize the students to develop social values, widespread their responsibilities and knowledge in societal issues and problems by making them to involve with the community people.
Outreach Programmes & Community
Outreach programs & community service build relationship & social connection with the people and it improves communication, interpersonal & critical thinking skills and helps them to find their passions & interests.IHS is regularly conducting outreach programs in Neighbour hood communities through its dedicated Unit. It organizes events and camps through Outreach activities ,plantation, blood donations, awareness camps ,Environmental day, Swachh Bharat Abhiyan, Hearing Camp, Public Rally on spreading awareness on communication disorders, Health check up camp, Autism awareness outreach camp, Speech & hearing camp, Disability certification camp for Autism, Inclusive India Campaign, Pre - Primary School Teachers awareness programme and Kshyamata Express Outreach Camp which is the doorstep delivery of professional services for identification, assessment, consultation and possible intervention at the home, community of the beneficiary or nearby medical rehabilitation centers where required medical rehabilitation services including fitting assistive aids and appliances, admission in the Special schools, linking up with the govt. authority for issue of disability certificate and such other benefits to persons with disabilities were delivered.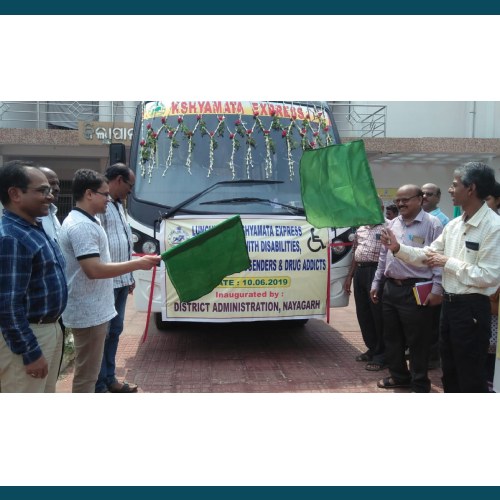 Kshyamata Express
A mobile rehabilitation unitaims at comprehensive rehabilitation services starting from awareness generation/education to assessment of special needs & professional consultation/guidance services including referral and networking with Govt. Agencies for catering to the diagnosed needs.It will include the ground work to sensitize the grass root workers, for identification and reference of the affected people for clinical treatment. It delivered required clinical services such as diagnostic and therapeutic care, assessments of the educational needs, counseling and making provision for special education and integration in the social mainstream. The programme covered in 7 Districts of Odisha started in the month of July 2019.
Community Awareness Through Digital Media (2020-21)
Prof Satya Mahapatra, founder, Secretary, Margdarsi conducted virtual awareness programme on different types of disabilities and their rehabilitation in every Saturday evening through his speech as Satya Speaks. As Covid-19 pandemic was prevalent and everyone is restricted to move outside which also hamper the rehabilitation of children at home, consequently regression of their condition. On realizing the problems faced by the parents of disability children, Prof SatyaMahapatra started his rehabilitation, awareness and guidance through virtual platform.
Physiotherapy Camps
IHS is setting up regular physiotherapy camps for the under-privileged. Main aim is to reach out to remote areas of state and create awareness, identify and treat people with physiorelated disorders.
SOG camp:- Institute of Health Sciences conducted regular free physiotherapy camp by the department of Physiotherapy at Special operation Group training centre in Chandaka. physiotherapy treatment was given to all the SOG Jawans focusing on joint pain and rehabilitation.
Oral Communication Skill Development Programme
IHS conducted assessment and awareness campaign on communication disorder and specific learning disability in different educational Institutions like schools and colleges in twin cities of Odisha, Bhubaneswar andCuttack. Students of different age group were assessed and referred by Margdarsi
Early Identification of Children with Intellectual Disability
Children should be taught according to their way of learning Not all children are smart and brilliant to learn things easily. In many cases child is unable to comprehend. So teachers need to understand that a child might be suffering from some kind of intellectual disability and various kinds of developmental disorders. Therefore Institute of Health Sciences, periodically conducts Teachers awareness Programs at different nursery and primary schools of Bhubaneswar. Teachers were sensitized about early identification of children with developmental disorders.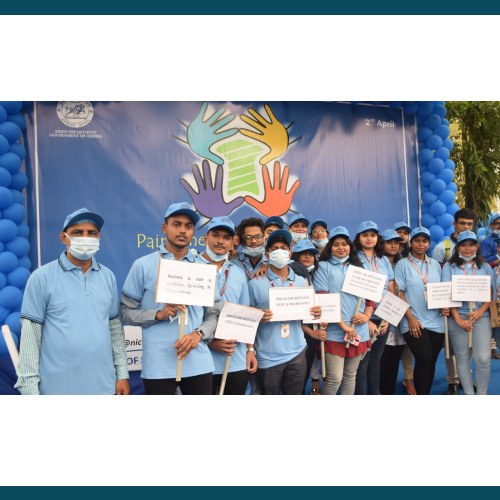 Sensitizing public through rally and awareness campaign
Being the pioneer Institution in the disability rehabilitation it is our foremost duty and responsibility to educate and sensitize the public and other stakeholders about disability, its causes , symptoms and make them understand that it is curable.We spread awareness through different events, outreach activities, material dissemination etc.On the occasion of World Autism Awareness Day, World hearing Day, Deaf Day IHS took steps to sensitize the public through public rally, showing pla cards, slogans, distribution of leaflets etc.
Health check up camps for Senior Citizens
IHS periodically organized free health check up camps for senior citizens at nearby villages of Chandaka. Camps were organized with free hearing check up, eye check up and overall fitness of the senior citizens in collaboration with other stake holders.
Extra Curricular Activity
Surprise destination trips were organised by IHS throughout the year for students as a part of extra-curricular activities. IHS continuously tried to enhance the overall development of the students. Hence small study trips were arranged to nurture the students with the theme "Education is not just limited to classrooms" as a wise medical practitioner can come up with solutions to serve societies better. It is the ultimate learning experience.
Our Outreach Department
Nalini Mohanty
Director, Programmes
Through various screening program in schools we noticed the children with disabilities and provide them the necessary care. Our groups of professionals are actively participating for the parent counseling for the home based treatment to the persons with disabilities. Our staffs with profound interest attain the social values and responsibilities through plethora of awareness program only to extend their helping hands to them. 'KSHYMATA EXPRESS' is an initiative of IHS with the collaboration of government of odisha in order to organize various health camps in the interior areas of the state. Our officials also play the instrumental role to avail the disability certificate to the persons with disabilities in this aspect. SOG camps offer healtcare facilities to the real hero of our nation, is an absolute praiseworthy approach of our institution.